Bronson Alcott Pinchot is an American actor.  He has appeared in several feature films, including Ricky Business, Beverly Hills Cop, The First Wives Club, True Romance, Courage Under Fire and It's My Party. Pinchot is probably best known for his role in the ABC sitcom Perfect Strangers as Balki Bartokomous from the (fictional) Greek-like island of Mypos.  Since February 12, 2012, Bronson has starred in a home restoration show on DIY Network based on his own hobby of restoring old homes using salvaged materials, The Bronson Pinchot Project. I watch it here in North Carolina on Thursday evenings and I am in the process of watching all of the old episodes on the On Demand channel.
Pinchot was born in Manhattan.  His mother was Italian-American, and his father, who was of Russian descent, was born in New York and raised in Paris.  Bronson was raised in southern California.  After graduating from South Pasadena High School, where he was number one in his class and valedictorian, he went to Yale University on a full scholarship.  He graduated magna cum laude.  He began college studying fine art but became interested in acting when he won a role in a college play and was discovered by a casting director which resulted in a role in Risky Business.
Since 1999, Pinchot has spent a great deal of time in Harford, Pennsylvania, restoring the circa 1839 mansion of former Pennsylvania state Senator Edward Jones.  He has purchased six properties in the small rural town of 1,300 "in an effor to return the town to its 1800s appearance."  —-from Wikipedia, the free encyclopedia
It is Bronson's dedication to the Greek revival mansion that makes me stay up until midnight and causes me to ooh and ahh over what he is doing there.  Just in case you haven't seen his masterpiece, I want to share it with you here.
For those of you  who are a lovers of classical architecture, original paint, crusty hardware, period wallpaper,  and symmetry, you will like the following images.
The program on DIY is light hearted, just as you might expect from an actor/comedian.  Yet, at the same time you learn a great deal of information about architecture. Bronson seems to have a great respect for the homes he is helping and a respect for the families who once lived in them.
For over a decade he has been working on his dream home in Harford, a village founded in 1790 and nestled in the Endless Mountains of Susquehanna County near the New York state line.  "I wanted a Greek Revival house within a five hour drive from New York City."  The designs are his own, "I get a kick out of it because I sit there with a sketchbook and say, 'This is what it should look like when it is done and in the end it either looks like that or it's better.'" On the show that I watched last week he even designed a dog house made from an old column.
He employs local carpenters and craftspeople.  The finished product is a blend of English regency and American high country along with 19th century plaster casts of ancient Greek sculpture and architectural flourishes.
He now owns several homes and  hopes many of the properties will be places for visiting friends to stay.  Below is a photo of Bronson outside of the Decker House.  He has been rebuilding it using salvaged materials.–Joann Loveglio, Assoc. Press
On last week's show he paneled a loft bedroom just beyond the stacked oval windows below with many wooden doors.  The bedroom was covered on the ceiling and the walls end to end with paneled doors, some of which had been faux painted in the 1880's to look like different types of wood
The kitchen in the dream house uses salveged wood with original paint.  The refrigerator is hidden behind panels.  The globes in the ceiling fixtures are a second try.  The first group of globes arrived cracked, so he had to order the ones that you see here.  They were not his first choice, but he grew to like them.
Below is the "before" in one of the properties.
Here is the "after."
Bronson bought salvage rights to a home in New York state and designed this mantel surround using moldings that went around a door in that home.  He directed his carpenters to stack salvaged molding on top of molding until he achieved this desired look.  He mentioned that he had redone this room nine times.  He thinks that this is his final try.
You can see the period wallpaper and the architectural remnant which he put on top of the fireplace mantel.  The edison light bulbs illuminate the ceiling. He had the travertine tile set on the diagonal during one of the previous remodel attempts.
Here are some of the pieces that are awaiting a place in future projects in his warehouse.
Bronson drove to New York City to the studio of designer Vicente Wolf and purchased this plaster bust that Mr. Wolf had brought from Europe.  It has penciled names written on it by school children in Europe.  The bust now resides in the room with the mantel.
About three years ago, Restoration Hardware started selling furniture with the same aesthetic that Bronson Pinchot is striving for in Harford.  Here is one of their rooms from a recent catalog.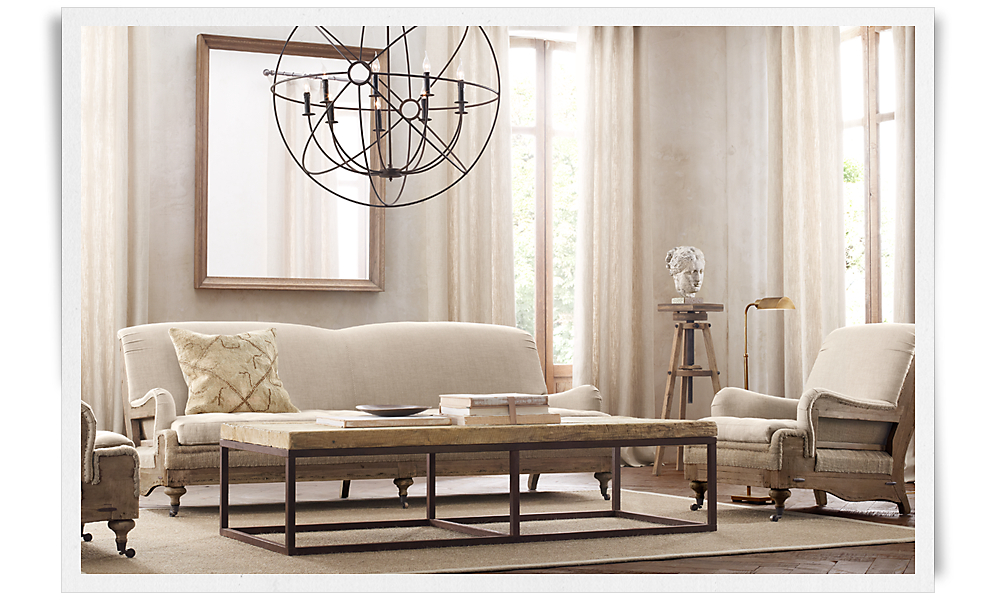 Note the bust and the natural wood along with the neutral color scheme.  The fabric is all natural linen.  Here is a living room with tables made from the tops of columns.  These are ionic columns.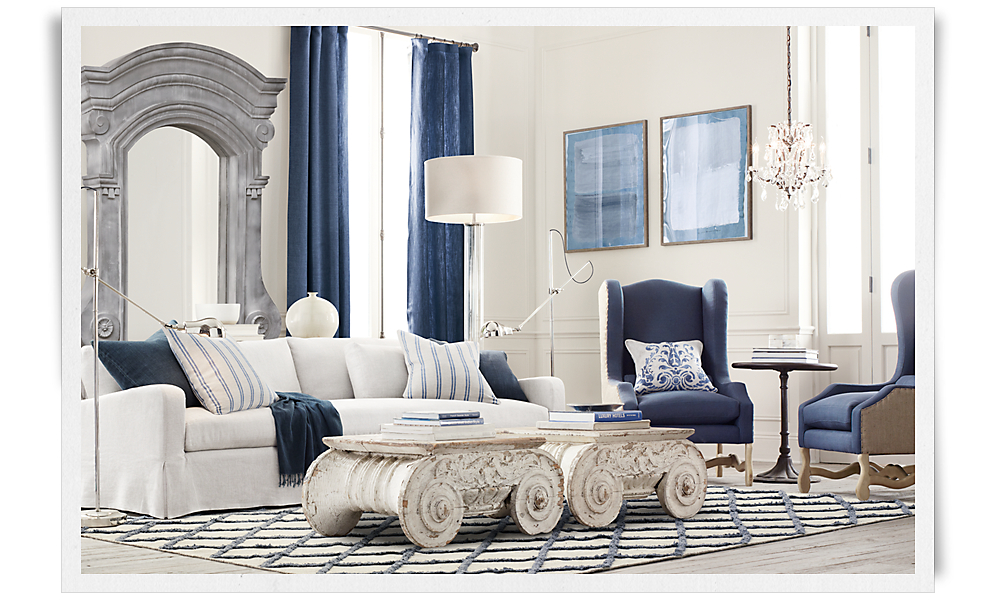 In this dining room from Restoration Hardware you will notice unconstructed wing chairs.  You can see the batting that would normally go under the upholstery.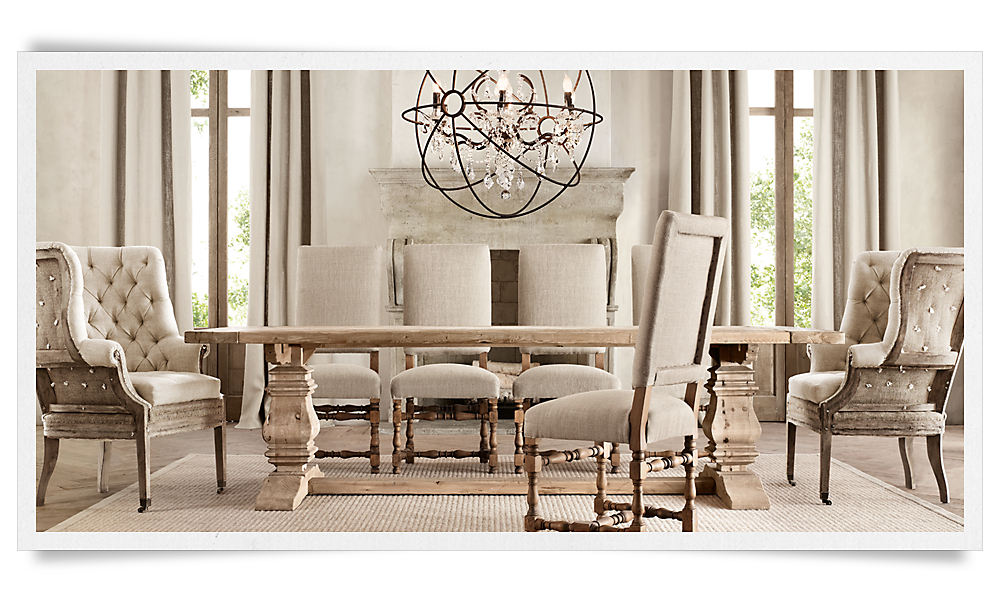 I have to admire Bronson Pinchot for saving so many architectural remnants and honoring them by incorporating them in his project.  I hope that all of us will be able to honor objects that have seen many years of service. Try shopping at an antique mall  instead of a furniture store with new merchandise. Old things seem to have an old soul that can still be cherished.  Create and be happy.