My mother often told me, "Necessity is the mother of invention."  Indeed, if you need or want something it may be the natural thing to invent the solution or make it yourself.  This is what happened when my daughter wanted a globe shaped light fixture for her home.  She admired several in stores and on the internet, but they were just too pricey.  In the spirit of Scarlet O'Hara who used drapes to make a stunning green velvet gown, Kathleen set out to find her supplies.
She went to Habitat for Humanity's Restore to find a three candle light fixture, to the garden section of a big box store to purchase two metal planter baskets, and to the internet to order lots of sparkling prisms.
With some wire and some paint, and a lot of talent, here is what she created:
There needed to be a finial at the bottom so she attached a crystal drawer pull at the bottom.
Here are some fixtures that you can purchase with the same look:
This one would be easy to replicate if you purchase a metal armillary and added your own light insert.  I saw an armillary like this one without a light just today in a local shop.  I think that it was around $20.  If I were to make this light, I think that I would add some prisms.
This one is from the Restoration Hardware catalog:
Here is the fixture from Restoration Hardware that prompted Kathleen to make her own: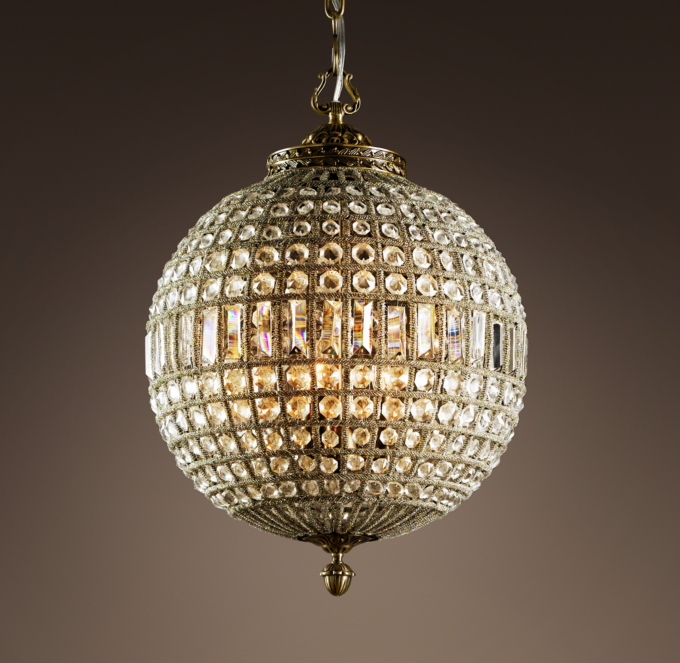 And here is the one that she created:
So, the next time you really want something, take a moment to study how it is made and think how you could achieve similar results.  You may surprise yourself.  Below are some diy light fixtures that I found on Pinterest. If you want more information, just go to Pinterest and type in, "diy light fixtures," on the subject line.
This is a drum shade used to cover a light fixture that the owner did not like.
Mason jars and Edison bulbs created these charming lights:
Wire lamp shade frames were recycled:
An extension cord, wreath frame and some Christmas lights combined to make this light:
Use spray paint to transform an old brass chandelier:
DIY Mason jar chandelier:
I thought about trying to make a light like this person did, but I had to lie down just thinking about it.  Made from a planter and wooden beads, it is unique and very expensive looking:
Ever go to a flea market and see a box of silver plate spoons?  I have, but I never thought of this:
…or this:
The Junk Gypsys made this light from book pages.  I worry about using paper this close to lit bulbs…be careful:
This wire basket never looked so good:
I think that I may watch for a nice wire birdcage:
For you Shabby Chic lovers, try gathering some burlap and then attaching it to a shade:
I have been tempted to try a twig chandelier. It looks like it would be fun to make:
I "married" a sconce with a barn wood porch slat to make this:
If you made a great light fixture, send me a picture.  Maybe we could share ideas.
Create and be happy!