The downstairs sun porch became the kitchen while work was under way on the real kitchen in my daughter and son-in-law's 1893 home in Chicago.  You never know what you might find when you open the walls on a home that old but all in all the project went smoothly.  The children thought it was fun eating off of a card table and watching Mom and Dad doing dishes in the laundry sink.  Mom and Dad weren't quite as pleased.  I think that you will agree that the awkward process was worth it when you see these beautiful "after" photos.  Here is the exterior of the home as it appeared when the weather was nice and the wind chill was not -27 degrees.  It is the home on the far right.  When it was built it was a Victorian home north of downtown Chicago.  There is a very tall grand staircase with beautiful spindles, hardwood floors, and tall ceilings.
When they bought the home, it had been remodeled with a family room put on the back of the house behind the kitchen and a master suite above the family room on the second floor. The basement had also been remodeled and there was a media room, guest bedroom and bath. The kitchen had been remodeled but the cabinets and appliances just did not hold up as well as they should have.  My daughter and her husband love to entertain and they needed reliable appliances and great organization in their kitchen.
I am sorry that there are no "before" pictures, but I will tell you how it looked as we see these "after" photos.
Originally, there was a window on the far wall where the hood is and a cook top was in the island where the sink now is.  The sink was under the original window.  They added beautiful butcher block on the island.  By switching the cook top and sink, they were able to add an entire range.  On the right is a microwave oven and a wall oven.  The kitchen planner took these lovely photographs.
The tile, laid in a herringbone pattern is very attractive. Have you noticed that the trend now is to use colored grout?
There are two identical light fixtures over the island. There is a formula to use for adding chandeliers over an island.  This is a reprint from Lights on Line.com:
Chandeliers: If you are using a chandelier or ceiling pendant above a kitchen island or table, measure the width or diameter of your table. Then subtract 12″ from that number. That's the maximum limit for the width or diameter of a hanging light. Keep in mind that a fixture with a busy or complex design will actually appear larger, so if that's what is catching your eye, you'll want to scale your maximum width down slightly. Assuming you have 8-foot ceilings, the bottom of the fixture should hang between 30 and 36 inches above the tabletop. But if your ceilings are higher, the suggestion is to add 3 more inches above the table for each additional foot of ceiling.
Beth's island was so long that she could add two light fixtures.
Here you see a book shelf for cookbooks and on the far right is a pull out pantry.
In the background you can see the double wall ovens and beyond is a sunny family room where the children play and the family watches television.
They chose to have a farm house sink.  
This area used to have two glass front cabinets and a counter with under counter storage at the far end.  My clever daughter designed this banquette and had the beautiful table hand made.  There are two large pull out drawers on the outside ends of the benches but the best part is that the whole bench seating area has doors that lift up for more storage than they have yet used!  They had the light that used to hang over the island installed over this table.  Beth made the beautiful pillows after ordering fabric swatches from online.   I love the picture rail that goes around the top.  They have favorite pictures and some special artwork done by my talented grandchildren. It is a great place to have a meal and connect with the family.
While doing some research the other day, I came across a kitchen that has the same layout on the refrigerator/range wall as my daughter's kitchen.  There even seems to be a family room beyond as well.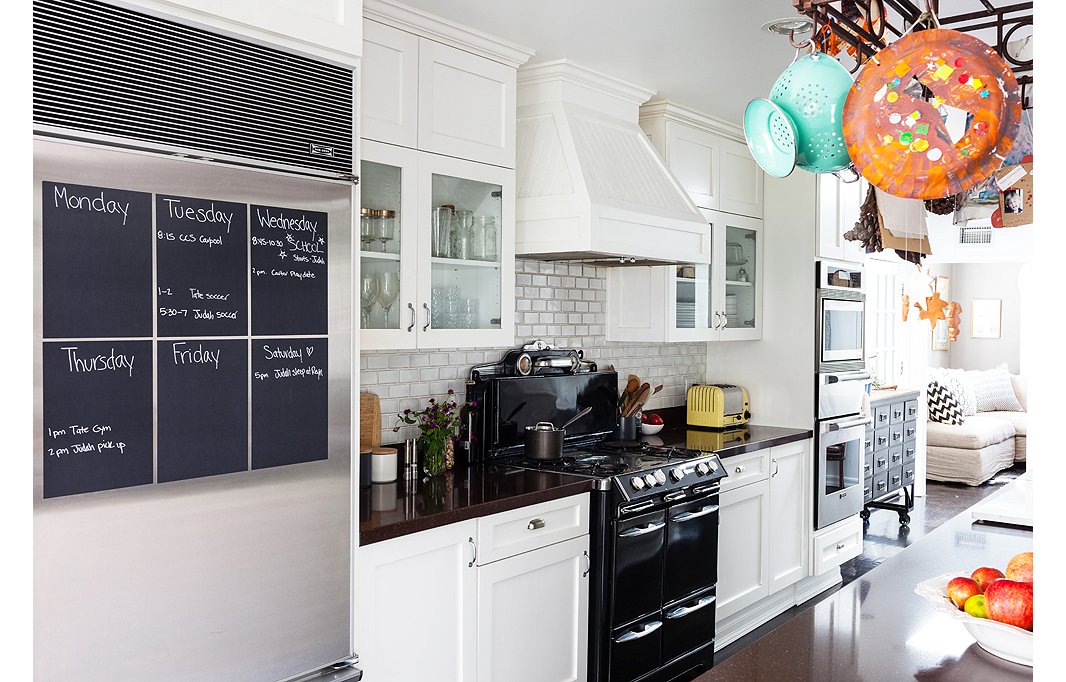 This kitchen features glass fronts on the cabinets.  I have never had glass front cabinets and wonder if I would like them.
If I could keep them organized, it might be good.
Maybe frosted glass would be easier, but too contemporary for me.
I like the curved mullions in this photo.
Not all of us can do a total kitchen remodel.  I found a good article from Emily Clarke for Better Homes and Gardens.  She describes ways to bring color to your kitchen:
5 Unexpected Ways to Add Color to Your Kitchen
Even if your kitchen is functioning well enough, you might still feel the need for a little refresh. Here are five ways to add an energizing — and possibly unexpected — bit of color into this hardworking space, without the expense of a major overhaul.
Paint Something Besides Cabinets or Walls
It's true that a little splash of color can go a long way. Experiment with a fun shade by choosing one feature that you want to "pop." A few ideas: Paint the space under the kitchen bar area, your pantry door, or even the ceiling.
Image via: Alice Lane Home, photographed by Lindsay Salazar
Let There Be (a Bright) Light!
Paint isn't the only way to add color. Consider adding a bright red (or yellow or green) pendant light. Or, spray-paint an outdated fixture over your breakfast table in a surprising hue. This is also a great way to visually break up a kitchen with a lot of dark cabinets.
Add a Colorful Gallery Wall
Displaying artwork is often overlooked in the kitchen, but it's a perfect way to add color and personality to this busy space. Consider vintage-inspired posters, food photography or, for an extra-colorful touch, frame some of your kids' masterpieces. A pretty tea towel in a frame is also fun for a kitchen wall.
Give Your Backsplash a Boost
A colorful backsplash can be a real showstopper in an overall neutral kitchen. If you're looking for an easy DIY project, there are a lot of peel-and-stick options now available. Or, experiment with something less permanent like a removable wallpaper.
Accessorize with Pops of Color
Sometimes, refreshing your kitchen can be as easy as bringing in a few colorful accessories. Metal bar stools come in all kinds of playful colors for an instant boost, or consider adding a fabric window treatment for some pattern play. Looking for instant gratification? Sometimes, just adding some bright, new dish towels or fresh flowers will do the trick.
So whether you attempt an entire kitchen remodel or add some splashes of color or new furniture to what you have, create and be happy!