After we were married, I spied a set of blue and white willow ware at an antique store and I fell in love.  I had seen the pattern before, but when I heard the story behind the pattern, it became very special.  I want to share it with you now because we are soon going to be setting our Thanksgiving tables….some of us might just use this pattern.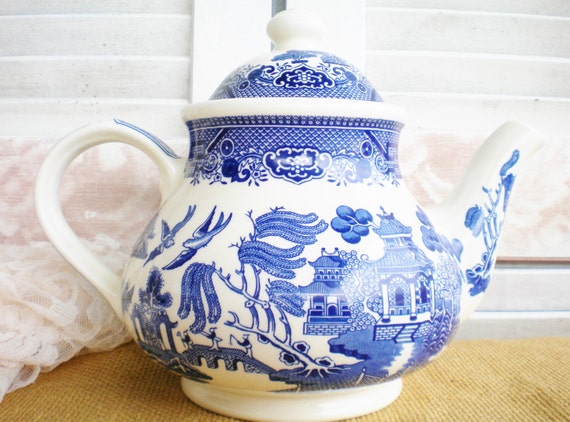 The information that I will share is from Victoria magazine
"Doves kiss in midair above a graceful willow, a pagoda, and a bridge where three small figures hurry.  It is a mysterious Asian Landscape, one that can't help but prompt stories.
Since the development of this much loved pattern in the late 1700's, variations have been produced by countless British and American manufacturers; it has decorated teapots, cups, and every imaginable china object in qualities from dime-store to collectible.  But where did the imagery come from?  What does it mean?
Its exact origins are untraceable.  Surely the pattern was derived by English potters from Chinese sources at a time when expensive imports of Chinese porcelain were all the fashion.  With the advent of English transfer printing, cheaper pottery became available to many, and naturally Chinese motifs—pagodas by the water, stylized trees—were much copied.
In the succeeding years, as tea drinkers held their cups, fanciful legends were woven to explain the elements that became willow ware: those doves, a fence, an island, a man in a boat.  The best-known tale first appeared in an English magazine in 1849, recounting the romance between a young well-born maiden, Koong Shee, and her star-crossed lover, Chang.  As they fled from her arranged marriage, the two were pursued and killed.  Merciful gods turned the pair into birds, flying together across a china sky forever."
We have used our blue and white willow ware for more than forty years.  Just when I think that I need a change, I set a table for a family dinner with it and cannot imagine not using it.  Besides, it can go into the dish washer.
It is hard to imagine a more romantic china.
It looks great arranged in a display with other blue and white transfer ware patterns.
bluewillowblog.com
It looks good with orange for Thanksgiving:
from Hometalk
Hang it on the wall for a traditional statement.
from topdesignmag.com
You can find it printed on fabric:
bluewillowblog.com
You can find socks!
bluewillowblog.com
Use the pattern for a cake.
from bluewillowblog.com
It always works with daffodils.
from Mias Landiv
Whether you are a lover of blue and white, a lucky person who inherited a set of dishes with this pattern, or someone who likes a romantic story, I present to you wonderful blue willow ware for your enjoyment.  Create and be happy!